For teams that have been eliminated from playoff contention, September is a time for youngsters and debuts. Giving prospects a few weeks of major league experience is one of the great side effects of expanded rosters during the last month of the season. The Mariners have been auditioning their young talent since June — they've rostered 67 different players this season, a major league record — but the group of September call-ups were exciting nonetheless. After the Arkansas Travelers were eliminated from the Texas League playoffs, the Mariners promoted a group of four players from their Double-A affiliate: Donnie Walton, Art Warren, Justin Dunn, and Kyle Lewis.
Dunn and Lewis were the headlining names of this squad. Dunn had been ranked towards the back of a few top-100 prospect lists after his breakout last season. Lewis was a much bigger surprise. A first-round draft pick in 2016 — Jerry Dipoto's first draft after taking over as Mariners GM in late 2015 — Lewis's professional career was derailed almost as soon as it started. A nasty collision at home plate practically destroyed his knee after just 30 games in the minors. That injury sapped him of much of his athleticism and mobility for more than a year and he wasn't fully healthy again until 2018. In that time, he tumbled down prospect lists and soon became an afterthought in an organization desperate for talent on the farm.
To his great credit, Lewis never stopped working to get back to 100%. He struggled in his first exposure to Double-A last season but came into spring training this year with renewed vigor and purpose. Unfortunately, an excellent spring didn't immediately translate to his second stint with the Travelers. His isolated power dropped to .136, a career low, and his strikeout rate rose to an ugly 29.4%. But his home-road splits paint a bit of a different picture. Dickey-Stephens Park in Little Rock, Arkansas is known to be one of the most difficult ballparks to hit in across all of minor league baseball. At home, Lewis posted a lifeless .214/.291/.342 slash line. On the road, he excelled, hitting 10 of his 16 home runs and slashing .311/.384/.502. We can't just ignore his struggles at home, but it does give some context to his 109 wRC+ despite the lack of power and increase in whiffs.
Because he would be Rule-5 eligible this offseason, the Mariners added him to their 40-man roster on September 10 and rewarded his hard work with a promotion to the major leagues. He made his debut that same day and slugged his way into the record books. In the second at-bat of his career, he launched a 426-foot bomb off Trevor Bauer into the cool Seattle night. In his next game, he blasted a go-ahead, three-run homer off Sonny Gray, breaking up a no-hitter and putting the Mariners ahead for good. His third career game was capped off with a 457-foot blast off Lucas Sims. He joined Trevor Story as the only players in history to hit home runs in the first three games of their career (Story would also homer in his fourth career game). After his first three homers, Lewis tacked on two more in the sixth and eighth games of his career. Through 39 plate appearances, he's posted a 180 wRC+ with a .306/.333/.778 slash line.
Just over a month ago, Aristides Aquino exploded onto the scene, launching 11 home runs in the first 17 games of his career, a major league record. In his article about Aquino's record-breaking start, Jay Jaffe included the following table:
Most Home Runs in First 12 MLB Games
SOURCE: Baseball-Reference
Of course, Aquino would go on to hit three more dingers in his next five games, setting a new major league record. Lewis sits just below this group of 10 players with five home runs in nine games. The Mariners have a three-game series in Baltimore this weekend. The Orioles pitching staff has allowed the most home runs in the majors this year and Camden Yards is a hitter's haven. It's definitely possible Lewis could slug his way higher up that list above. Hitting another six homers in his next eight games to tie Aquino's record is unlikely, but Lewis's hot start has been a breath of fresh air for Mariners fans.
His success in the majors is the result of his rehab work to get healthy again as well as some major changes to his swing mechanics. Kate Preusser, Joe E. Doyle, and John Trupin of Lookout Landing collaborated on a wonderful breakdown of the adjustments Lewis has made to his swing. They wrote:
Lewis now drops his hands lower, in a better swing-plane slot, allowing for a shorter, more compact swing. He's now quicker to the ball. At Mercer and up until Spring Training this year, Lewis would have to rely more on his athleticism to get to pitches. That's no longer an issue. He can now trust his eyes a little longer.

By dropping his hands into the slot, and keeping his hands inside his body, Lewis is able to engage his core, allowing him access to his plus raw power. Instead of relying on his arm strength to lift and power balls out, he's using his lower half and core to do the heavy lifting.
Here's some visual evidence from that Lookout Landing article:
Comparison of Kyle Lewis today to AFL 2017 (did not take open face then): Big leg kicks for both. Lewis is more upright now, less bend in his knees. Much quieter pre-swing hands. Base stance more closed. In general less wasted motion. Stronger use of lower half in present swing pic.twitter.com/pl38ZMKq51

— Jason Pennini (@JasonPennini) February 26, 2019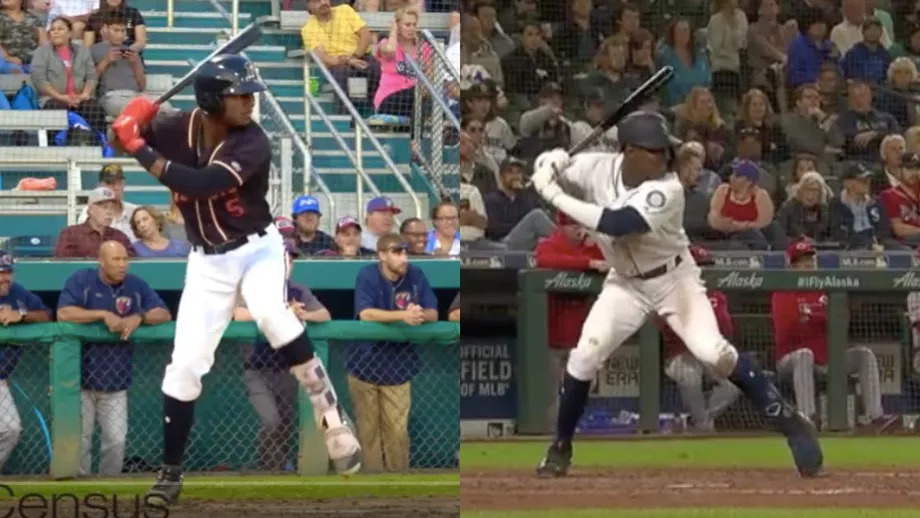 The combination of a quieter pre-pitch stance, better use of his lower body, and a compact swing plane has unlocked his raw power in a game setting. Among players who have at least 25 batted ball events this season (Lewis has 23), his 93.5-mph exit velocity ranks fifth in the majors, tied with Nelson Cruz. His single off Keone Kela yesterday afternoon was the first hit of his career with an exit velocity below 100 mph — at 96.8 mph, he still hit it hard. His expected wOBA on contact is a ridiculous .658! He's barreled up 34.8% of the balls he's put in play. He isn't just pulling the ball to generate all this power, he's blasting extra-base hits to all fields. Six of his 11 hits have gone to the opposite field, including two home runs and a double. Lewis is simply crushing the ball right now.
I mentioned his increased strikeout rate in Double-A this year. That concerning trend has followed him to the majors, as he's struck out in more than a third of his major league plate appearances. He's always struggled with above-average whiff rates, but a good eye has helped him post decent walk rates to offset the swings and misses. All the hard contact is great to see but it's clear he still has some work to do to refine his approach at the plate.
In his elegy for the Mariners' 2019 season, Dan Szymborski included an early ZiPS projection for Lewis.
ZiPS Projection – Kyle Lewis
| Year | BA | OBP | SLG | AB | R | H | 2B | 3B | HR | RBI | BB | SO | SB | OPS+ | DR | WAR |
| --- | --- | --- | --- | --- | --- | --- | --- | --- | --- | --- | --- | --- | --- | --- | --- | --- |
| 2020 | .246 | .309 | .388 | 529 | 62 | 130 | 29 | 2 | 14 | 65 | 47 | 164 | 3 | 90 | 7 | 1.2 |
| 2021 | .243 | .310 | .390 | 515 | 61 | 125 | 30 | 2 | 14 | 64 | 49 | 166 | 3 | 91 | 6 | 1.3 |
| 2022 | .243 | .312 | .396 | 515 | 63 | 125 | 30 | 2 | 15 | 65 | 51 | 167 | 3 | 93 | 6 | 1.4 |
| 2023 | .237 | .311 | .386 | 510 | 62 | 121 | 29 | 1 | 15 | 65 | 53 | 169 | 3 | 90 | 5 | 1.2 |
| 2024 | .236 | .312 | .388 | 369 | 45 | 87 | 21 | 1 | 11 | 47 | 40 | 125 | 1 | 91 | 4 | 0.9 |
| 2025 | .237 | .312 | .387 | 380 | 46 | 90 | 22 | 1 | 11 | 48 | 41 | 124 | 2 | 91 | 4 | 0.9 |
He wrote:
While I wouldn't call this projection "good," it also represents a significant change in outlook for ZiPS from its preseason forecast. Before 2019, ZiPS saw Lewis as a player who likely wouldn't peek far above replacement-level at any point. Now it sees him as a realistic, if limited, contributor to a winning team. He now peaks as a 15-homer hitter instead of one who hits around 10, and ZiPS thinks he's made enough progress in his plate discipline to walk 50 times a year. That's real progress.
This brief cup of coffee in September isn't going to change that projection much, but it does give us a glimpse of Lewis's upside. He had plenty of raw talent coming out of college and it looks like he's finally tapping into that talent again after a rough start to his career. With just nine more games left in the season, Lewis has a little more time to try and break a few more records. He isn't ready for a full-time gig in the majors yet, but he's closer than many thought and could carve out a spot on the Mariners roster as early as midseason next year.